Planning An All Stars Basketball Bar Mitzvah
A young man's bar mitzvah is an event he will remember for the rest of his life, so why not create an all-star atmosphere for this once-in-a-lifetime occasion? Life O' The Party can bring any theme to a bar or bat mitzvah, customized to reflect the unique interests and talents of the guest of honor.
For Jeff's special day, we were asked to bring the world of pro basketball to the Indian Trail Club in New Jersey. Check out the photos below to see how we transformed this venue into an all-star event.
Click the image to view in high resolution: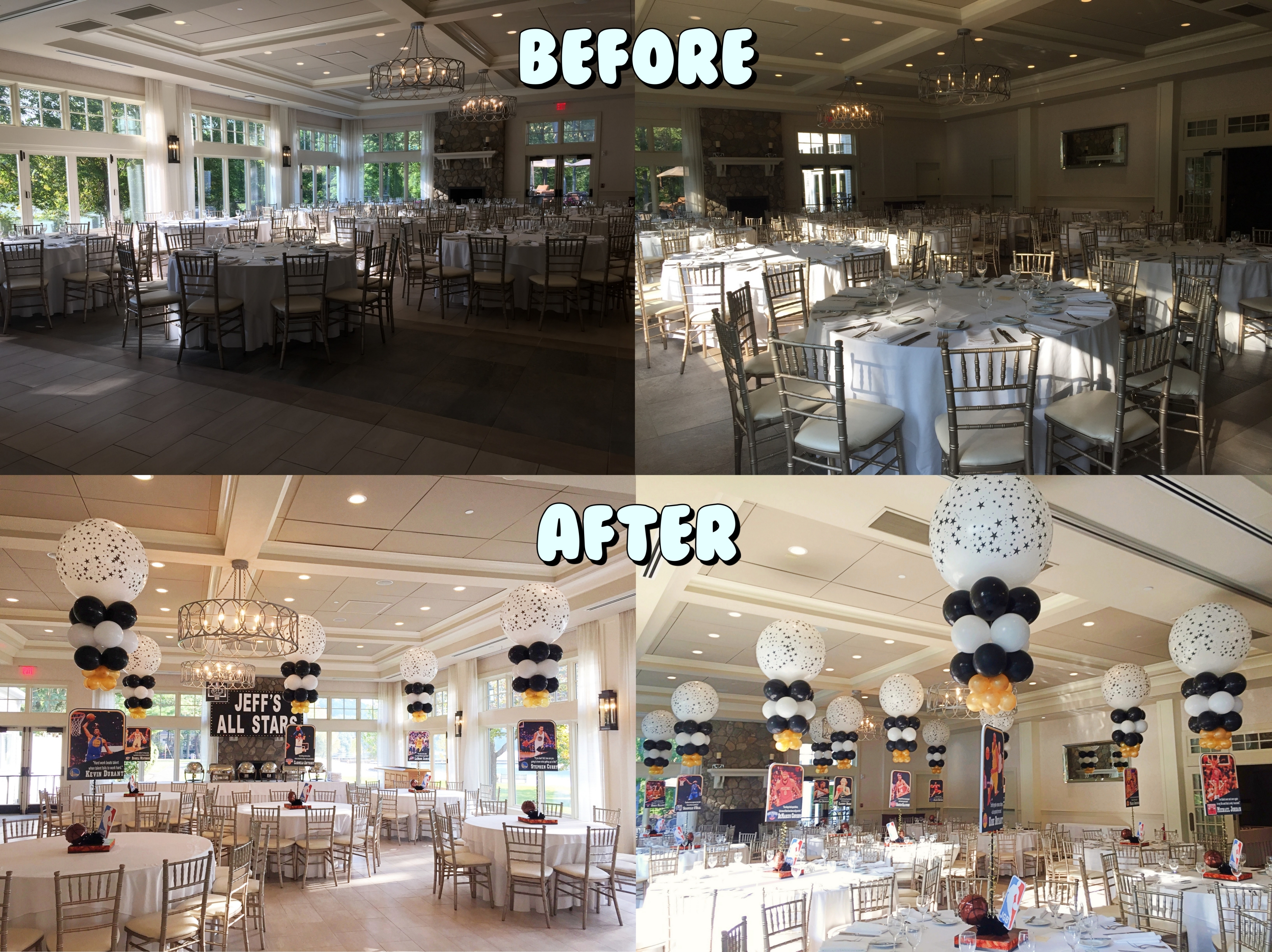 For Jeff's All Stars bar mitzvah, we designed custom centerpieces featuring black, white and gold balloons, with legendary champions of the court at each table. These centerpieces included full-color photos of famous players such as Larry Bird, LeBron James, and Julius Erving, each with an original quote to add some words of inspiration and encouragement to this coming-of-age celebration:
We also printed ticket-inspired escort cards which correspond to the athlete at each table, as well as a custom backboard sign in board for the guests:
In addition to the black, white and gold balloons on each centerpiece, we also included the same color scheme for balloon columns – complete with realistic basketball balloons to match the theme.
Check out this short video of Life O' The Party preparing for Jeff's All Stars Bar Mitzvah:
Planning a bar or bat mitzvah? Know someone who is? Get in touch with Life O' The Party for everything you need to make this occasion fun and unforgettable with the theme of your choice.
Life O' The Party
65 Sussex Street
Hackensack, NJ 07601
Phone: 201-342-2121
Toll Free: 800-74-PARTY
Fax: 201-342-8118
Email: info@lotparty.com
Or click HERE to go to our contact page.