Top 5 Different Types of Centerpieces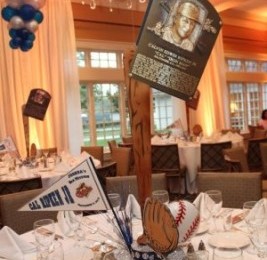 If you are planning a wedding, birthday party, or Bar/Bat Mitzvah, choosing the right centerpieces is crucial in creating the right atmosphere for your celebration. At Life Of The Party, we offer many different types of centerpieces that are designed to suit events big or small, youthful and sophisticated. Whether you want to take your child's party to the next level with fun and exciting décor, or you want to set the right tone for an elegant occasion, we can work together to help you choose customized centerpieces that reflect your unique taste and impress all your guests.
Here are some of the most common centerpiece types for you to choose from:
Character Centerpieces – When throwing a party with a specific film or TV show in mind, we can help you see your theme through from start to finish. In the past, we have provided "Bazinga" centerpieces for Big Bang Theory fans, South Park character centerpieces, and Simpsons table décor as well. No matter what the theme is, we have the creativity and experience needed to execute your vision perfectly.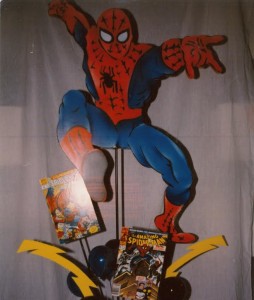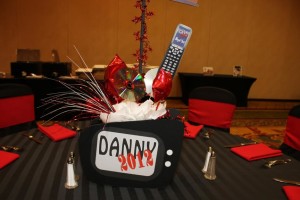 Sports Themed Centerpieces – Have a son or daughter who's a huge sports buff? You're in good hands. We have provided sports-related décor for tons of events in the past, creating everything from San Francisco Giants decorations, personalized basketball hoops, baseballs made of balloons, and even Yankees centerpieces with the guest of honor's cutout included.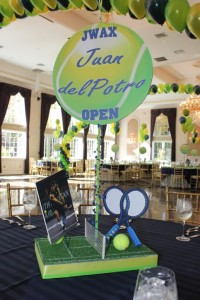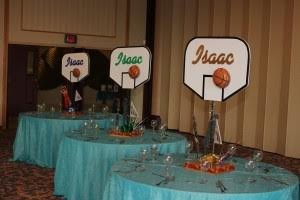 Balloon Shapes Centerpieces – It's amazing how many different styles and looks can come from an array of balloons. We can create all types of shapes to make a unique arrangement that will surely be a conversation-starter at every table.
Minimalistic Balloon Centerpieces – If you are looking for a pared down and elegant approach to table décor, we offer plenty of classic and traditional options to make a bold statement in a simple way.
To learn more about the different styles of centerpieces we offer, visit us online today. When you browse our gallery, you can check out the full scope of our projects to find the ones that suit you best. We can work together to choose balloon colors and sizes so we can create a high quality, creative, and most of all, memorable centerpiece for your next event!